Baruch College Chess Team wins Under-1600 trophy for second year in a row
by BOBBY MOY - Contributing Writer
February 07, 2005
The Baruch College Chess Team returned to the prestigious Pan-Am Intercollegiate Chess Team Championships. This year the Pan-Ams were held in Wichita, Kansas from December 27-30, 2004. The tournament is the biggest college chess competition of the year, where college teams from the Western Hemisphere collide for four days of nonstop chess over six rounds of matches that can last as long as six hours.
The Baruch Chess Team consisted of Bobby Moy, Michael Layevskiy, Vivek Jagadish, Vitaliy Popov, Dmitry Omelyanenko, and Aziz Zhumashaliyev. It featured four starters and two bench players in every one of the six rounds.
Baruch ran into a little bit of trouble on the first day as the connecting flight to Wichita out of Chicago was delayed for an hour. After finally getting to the tournament site, two hours after the start of the first round, the team expected to lose that round by default.
However, Moy got a phone call from the tournament director once the team arrived and was told that their opponents were waiting and Baruch's game clock was running. Unfortunately, Baruch had to play with half the allotted time, putting it at a disadvantage from the get-go.
Baruch's first opponent was the University of Maryland Baltimore County (UMBC) B team, which finished in the top five last year. Already with an hour handicap, Baruch's captain Popov, decided to bench his two veteran players Layevskiy and Jagadish so they could rest for the next day's matches. Moy, Popov, and Omelyanenko, Zhumashaliyev started for Baruch. Moy was matched up with Kat Rohonyan, the 2000 Women's Chess Champion of Ukraine. Popov was matched up with Battsetseg Tsagaan, a seven-time champion of Mongolia. The lower boards experienced similar mismatches. The match ended without resistance from Baruch as UMBC B won 4-0.
On the second day, Baruch was matched up with a big name team once again, this time being Emory University, the top Under 2000 team in 2003, which also had all four of its starters ranked in the top 100 players in their age group. Baruch was clearly outmatched and finished with a .5-3.5 loss. The only scoring for the round came from Moy, who in a winning position, offered a draw to rest up for the next round, which his opponent accepted.
Montgomery College, who was also 0-2 at that point, was Baruch's opponent in round three. It was important to set the tone early, and Moy provided Baruch with its first point in less than two hours. After three hours of play, Popov had a slightly better position, and Zhumashaliyev had a clear advantage. Zhumashaliyev converted his win as Baruch's team stood watching
Popov's slight advantage finally materialize and Baruch won their first match 3-1.
Baruch encountered Howard University in round four.
Omelyanenko proved to be the better player than his opponent and started Baruch off with a 1-0 lead. Jagadish held an equal position, and Popov was trying to draw from a slightly bad position. Jagadish eventually drew his game after much resistance from his opponent and Popov was not able to hold off defeat. The final score was 2.5-1.5 in Baruch's favor.
With the momentum coming from its two straight wins, Baruch was matched up against the Stanford B team, which tied its match against UMBC B, Baruch's first round opponent. Omelyanenko lost on the fourth board, to put Baruch in an early 0-1 deficit. Popov's opponent blundered early on, but Popov was not able to capitalize. Jagadish and Moy held equal positions, yet after four hours Jagadish's position forced him to resign. Moy offered a draw to avoid the prolonged match. The draw was declined Stanford wanted to sweep. Moy won the match and it prevented the sweep, with the final score being 1-3 in favor of Stanford B.
In the final round, Baruch was matched up against its cross-city rival New York University (NYU). Baruch crushed NYU 6-1 two years ago, but NYU had a much better team in the Pan-Ams. Zhumashaliyev, who took a round off to sharpen his tactics, won his game in under three hours. Popov lost his game as Jagadish and Moy held better positions. Jagadish, however, blundered under pressure from the clock and lost his game. Moy's opponent offered a draw, which Moy declined immediately. After four hours, Moy won his game, ending the match a 2-2 tie.
Baruch finished with 2 wins, 1 draw, and 3 losses and after all of the tie-breaks were calculated, was awarded the 2004 Under-1600 team trophy, its second in a row. Baruch, which was matched up with much tougher opponents, outperformed their seed position again, as the Chess Team's performance Baruch's performance matched the teams from such schools as Duke University, Stanford B team, and NYU.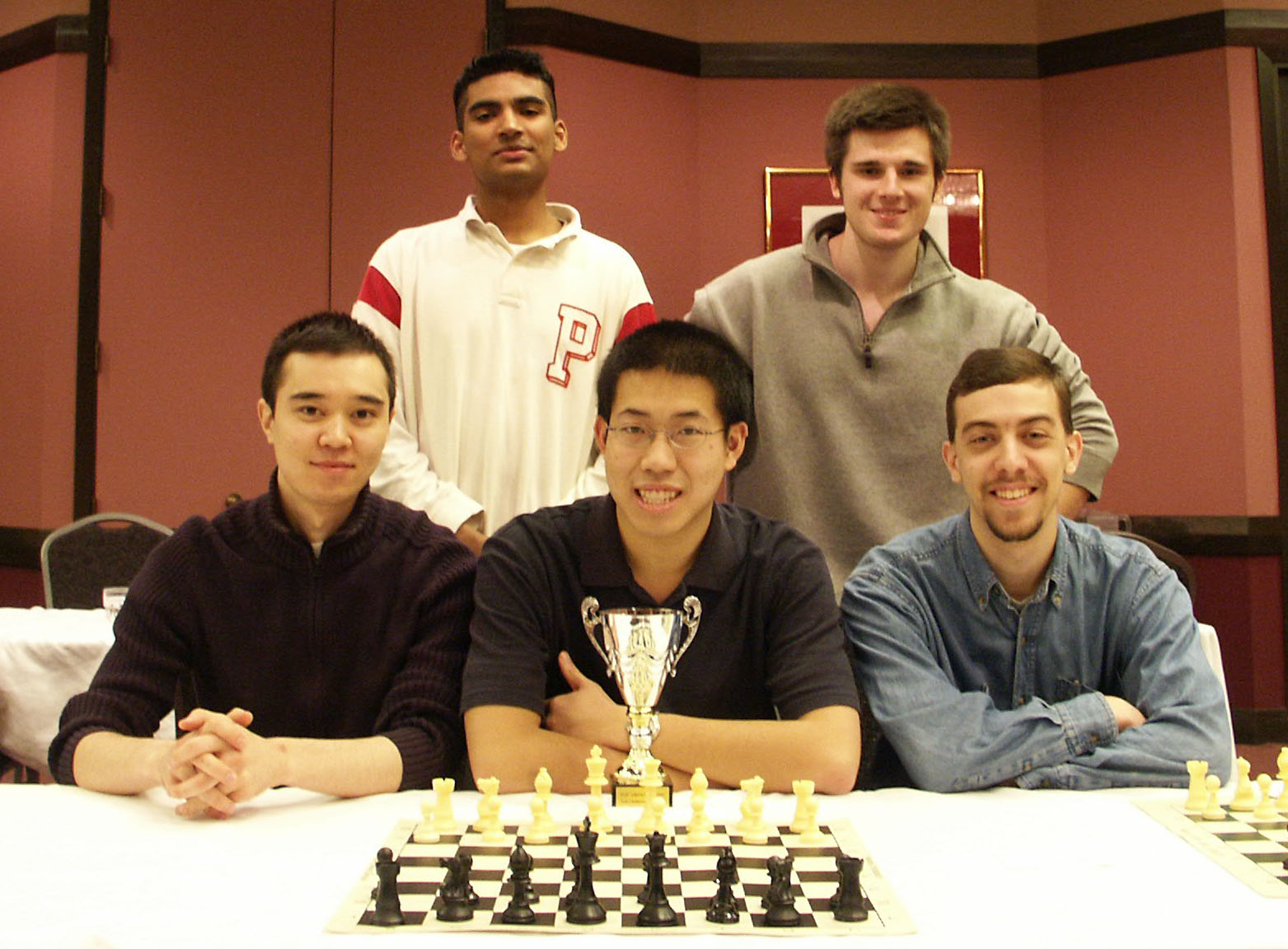 Baruch is looking for more team members as Baruch is set to have a rematch with NYU this semester, be sure to stop by the club.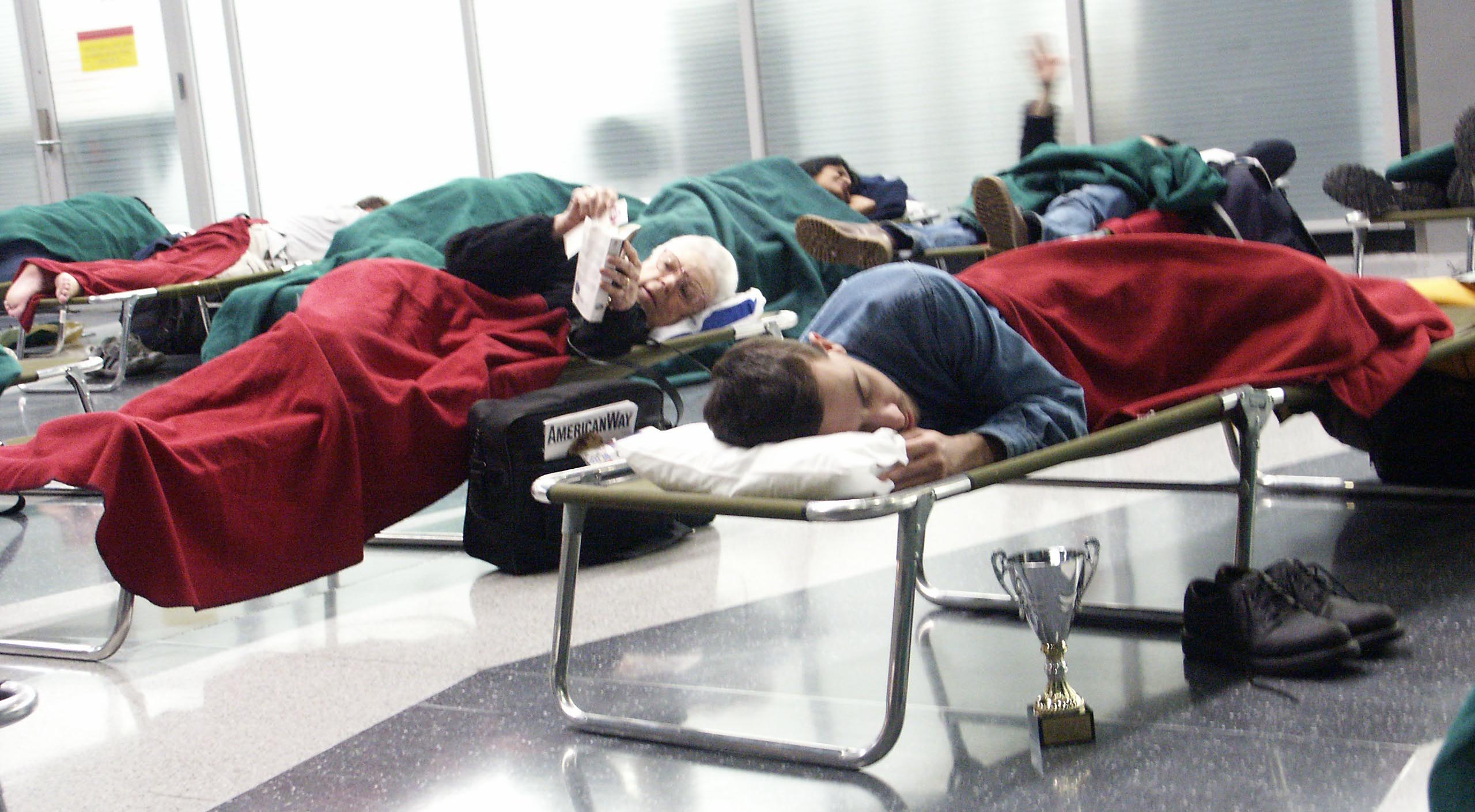 Baruch remained stranded in Chicago O'Hare Airport for the night as weather was bad.